Champion Supplier
Manufacturer
Content Contributor
Trusted Supplier
Why work with us?
Information not available
What our customers say
There are no reviews for this business
About AAHSIN SPICES
Our products offer a wide variety of delicacies which mothers can make at home, Everyday!AAHSIN SPICES takes special care in selecting the raw material for the ground single spices category.AAHSIN blended spices are a class apart. Each blend has been specially formulated to impart the genuine taste to various Indian food preparations. Decades of research has gone into preparing these blends needed in specific and classical Indian dishes. Indian traditional cookery is free of preservatives and artificial flavour enhancers. AAHSIN does not use these synthetics.AAHSIN is committed to this quest for quality.AAHSIN Spices is a synonymous with quality and innovation. From pure spices to whole ones, sprinklers to blended spices, AAHSIN covers the entire spectrum of home and professional cooking across Madhya Pradesh,Gujurat,Maharashtra. Aahsin Spices – an epitome of Purity Aahsin Spices are pure with no artificial colours or filler added to it. Small wonder that today Aahsin Spices are a favorite of Indian housewives and are also preferred by star hotels and caterers. To deliver the freshest, just-out-of-the-factory spices, AAHSIN has developed a highly efficient MANUFACTURER-DISTRIBUTOR-RETAILER-CONSUMER distribution model to make these spices readily available in the shortest possible time to its consumer. Mastering masala blending is both an art and science. Given the diversity of culture and the wide variety of distinctive cuisines and taste preferences, prevalent across the length and breadth of India, it is a skill that needs perfection and it's not easy. Each spice has its own distinct identity in terms of taste, aroma, flavor, color with some even offering numerous health benefits. No wonder, pure spices will always play an integral part in Indian cuisine irrespective of the zone, state, community or the cooking method and hence occupies a very special place of honor.Every pack that leaves our factory carries the assurance of best quality and purity Quality is a byword for Aahsin Spices which is ensured through rigorous quality control procedures, right from procurement of raw materials to manufacturing and packaging of the finished products. Raw materials are carefully sourced from the best spice producing regions in India and their hygiene and quality are meticulously monitored throughout the manufacturing process.In AAHSIN,quality facilities constantly work towards improving the manufacturing processes and developing better formulations, so as to ensure that the consumers always get the best. Aromatic Purity of Spices Aahsin Spices employs the process for grinding the spices, which is an ingenious manufacturing technique to retain the flavor and aroma of spices in their original state. The use of the low-heat treatment of its spices is an innovative process as high temperature evaporates aromatic oils and compounds of spices that are vital to taste and flavor. This ensures that Aahsin Spices have all the ingredients to make the food delicious and healthy!
No. of Employees
10 employees
Information not available
Sunday
Monday
Tuesday
Wednesday
Thursday
Friday
Saturday
Information not available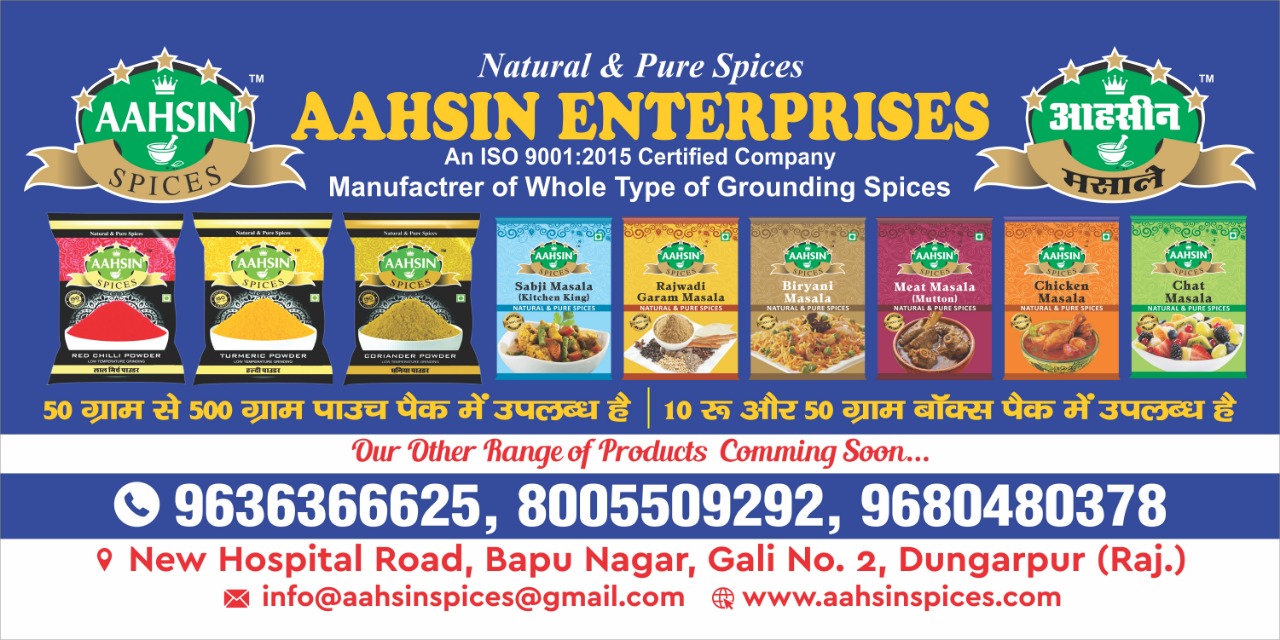 Champion Supplier
Manufacturer
Content Contributor
Trusted Supplier